In their new book Line Vocabulary poet Arild Vange and visual artist Per Formo play with a series of tactile, erotic encounters between figures, submarines, economics, plants and movements.
The work frames Vange's writing in a tightly constrained format where tiny fragments pattern two broad forms: firstly, of expansion and contraction through nine letters of the alphabet in relation to vertical forms/standing figures; and secondly through a series of almost pastoral, horizon-based accumulations of images. The poems were written in response to Per Formo's digital drawings, and vice versa; the constraints employed in the construction of the images being echoed in the constraints used in the writing process: syllables, letters, number of lines etc.
Line Vocabulary has been translated from Norwegian by Neil Davidson, working in close collaboration with Vange to produce this English-language iteration of the poet's text.
Vange's poetry has been informed and influenced by sound and listening for a number of years; starting with his book Fjordarbeid from 2006 and on into annerledes enn from 2010 and improvisasjon person in 2013. His work explores listening and responding, finding and crafting a voice amidst ambiguity and questioning. He carries this principle through into collaborations with musicians and artists and in the theatre company DVELL that he started with Neil Davidson in 2012. His poems and texts are frequently read with improvisers; a process of reading which is a kind of improvisation where new paths through the texts are produced each time.
Arild Vange (1955) is a poet, artist and translator. Following some early years studying economics and singing in punk/new wave bands Arild Vange's first novel "Ene og Alene" was published in 1990. He lived for many years in Germany and occupied for 5 years the honorary writer's residence "Adrianstua" belonging to the city of Trondheim from 2008 – 2013. He has written several critically acclaimed books of poetry. His translations include the works by Franz Kafka, Georg Trakl, Peter Waterhouse, Yoko Tawada, Thomas Kling and Anja Utler. He collaborates regularly with musicians including Lemur, En En En and Neil Davidson. In 2012 the improvisation company DVELL was formed around his long standing collaboration with Davidson. Vange is also working together with the visual artist Per Formo.
Per Formo (1952) is a visual artist working mainly with painting, wall painting, drawing and printing. He was educated both in music and visual art, and the interest in and experience of music has been very important in developing his visual expression. Since 1990, Formo has used a number of geometric structures and simple rules or procedures to generate the visual material for his paintings. He often works in series where the individual works are variations of a given structure or the same procedure. He has exhibited extensively in Norway since 1989, and he has also participated in exhibitions in Sweden, Finland, Australia and the Netherlands. He has had many public commissions in Norway, and he is represented in several museums and public collections.
Neil Davidson (1977) is a composer, writer and guitar player specialising in improvised musics. In particular: a new pop/composition project with composer Anneke Kampman, a longstanding project with Norwegian poet Arild Vange, regular collaborations with Michael Duch, Lemur, Jean-Luc Guionnet, Mariam Rezaei, Liene Rozite, Fritz Welch. He is also in the groups Asparagus Piss Raindrop, The Final Five & Glasgow Improvisers Orchestra.
Related Products: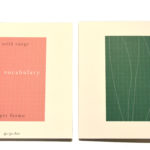 £15.00Add to basket